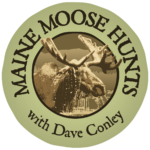 Dave Conley, full time guide and outfitter, offers guided moose hunts in Maine's Wildlife Management Districts (WMD) 1,2, 4 & 5. These WMDs have the largest population of moose in Maine. The September and October moose hunting seasons coincide with the rut with the September season being prime rut. Much like turkey and elk, moose can be very susceptible to calling. What a thrill to interact with a trophy bull moose as it responds to the call.
Hunt From Remote Moose Hunting Camps
While many hunters drive more then an hour one way each day just to get to their hunting grounds, our camps are located in the heart of prime moose hunting country well away from any towns. You can drive right to camp, park your vehicle and let use take care of the rest.  Camps include top-notch accommodations, the main shelter serves as a community area for meals. Private sleep tents for your party of 2-3 persons are spacious 12′ x 12′ Cabela's Alaknak Ultimate Outfitter tents complete with cots, carpet flooring and a wood stove.  Note, we normally only have one hunting party in camp, maybe two. The most we would book is three hunting parties in camp at one time.
A Look Back at Our September 2018 Hunt
it's 24 degrees and bulls are not coming to the cow call so we change tactics on a distant grunting bull. After a quarter mile spot n stalk and challenging this bull, he came in like a freight train! What a thrill as Adam harvested this bull at under 25 Yards (more).
Physical Limitations
For those with physical limitations, we hunt close to dirt roads or shorten the distance we travel on foot. We'll adapt your hunt based on your physical abilities and desires.
Success Rate
Dave has personally guided over 30 moose hunts with a 97% success rate. In fact, the only time we did not harvest a bull was on a last minute one day hire. With the ability to quarter and pack out your moose, we're able to get on foot to spot n stalk, placing you in Maine's best moose country.
2019 Moose Hunting Rates
$4500.00, includes guide, private outfitter tent, meals, transportation while on your hunt, quartering and retrieval of moose, caping of your moose for a European or shoulder mount, significant North Maine Woods day use and camping fees.
Not Included
Hunting License & Moose permit. Non-resident big game license $115.00, moose permit $585.00, (Maine residence license $26.00, moose permit $52.00). residents and $15.00 per person for non resident).
Extra persons (apart from you and your sub-permittee) is $500.00 per person for meals & accommodations.
To secure your hunt, a deposit of $1000.00 is required with the balance due 30 days prior to the hunt. When you are ready to book your hunt, call 207-551-8729 or 207-448-2743 or email us from our register/contacts webpage.
Having your moose mounted? We can recommend options where you can drop off your cape.
The 2019 Maine Moose Lottery
If you desire to hunt with us, you must first win a permit through a lottery system or be the winner of an auction tag (see below). When filling out your  moose lottery application, please choose WMD 1,2,4,5,3,6 & 11 in that order. Choose September and October seasons, bull only if you do not want to hunt an antler-less moose. If you desire to bow hunt for a bull moose, choose only the September season as it is the best for calling a moose in close. Deadline for applying is the middle of May with the drawing taking place the 2nd Saturday of June.  (more info)
2019 Maine Moose Permit Auction
The state of Maine auctions off 10 permits in February to the highest bidder with the proceeds benefiting Maine kids going to conservation camp. The average winning Moose Auction Bid for 2018 was over $16,000.00, contact Dave to discuss having us represent you in the 2019 Maine moose auction. (more info)
Photos