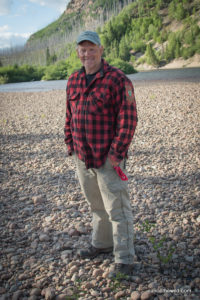 Canoe the Wild offers canoeing adventures in Northern Maine and Eastern Canada for the beginner and seasoned paddler alike. Canoe trips are a great way to experience nature, view wildlife, learn a new skill, take pictures, catch a fish, have fun and connect with family and friends. Maine and Canada are great destinations for those looking for a leisurely time or exciting and remote back country adventure. Canoe the Wild is committed to a higher than expected level of service, an uncommon attention to details.
Canoe the Wild is owned and operated by Dave Conley, Registered Maine Guide. He has been paddling the rivers of Maine and Canada for over 30 years. During the school year, Dave teaches an outdoor education program at East Grand High School in Danforth, host to the annual East Grand Adventure Race. In the fall, guided moose hunts are offered in northern Maine from remote outpost camps.
Contact Dave to discuss putting a trip together for your family, group, or join others on an outing.
Excellent Instruction
Our guides will instruct you in the basics (as needed) on and off the river. We'll go over how to handle a canoe including proper canoe strokes, how to work in sync with your canoe partner and reading the river. Guides will discuss potential river hazards and how to avoid. Upon arriving at the campsite, guides discuss how to set up camp including setting up tents, group tarp and what needs to be done in the way of camp chores.
Knowledge and Experience of Canoe Routes
With years of experience, we've become quite efficient with the whole process including best times to go, places to start and end your trip, where to camp, what rapids to scout, river distances and time needed to travel, points of interest, and the knowledge & experience of your canoe route so you can have a safe and enjoyable time.
A Hands On Approach
We'll be sure to include you in as much as you desire around the campsite. We welcome involvement with setting up and taking down camp. Most people desire hands on involvement with camp chores including meal preparation, fetching water, cooking, collecting and cutting firewood. Canoe trips are a great place to learn or improve upon skills such as proper canoemanship, reading the river, knots and uses, map & compass, cooking over an open fire and wilderness baking.
Exceptional Safety Record
Dave and his team have been guiding canoe trips for many years on numerous Maine and Eastern Canadian Rivers. Everything from family friendly to advanced whitewater trips. We have an excellent safety record on all of our trips. We understand the importance of maintaining a safe environment. Our registered Maine Guides have the skills and proven experience to lead wilderness canoe trips. We review trip protocols with all participants prior to going downriver and upon arriving at the campsite. The safety and well-being of everyone is of utmost importance while on trips.
Designated Campsites
Maine trip campsites are located along the river's edge, have a picnic table, fire pit, outhouse or outbox and plenty of room to set up tents. Canadian trip campsites tend to be more primitive and we plan accordingly. Guides are efficient with campsite setup & takedown, providing quick shelter, and hot & hardy meals cooked over an open fire.
Planning & Packing
We take care of all pre-trip planning including lining up shuttles or transport services, making reservations when needed, menu, shopping for food, packing meals & group gear. A four day canoe trip is actually six to seven days of work for a guide
Gear
All necessary camping equipment including river bags to keep your clothing dry, self inflating compact sleeping pads, durable Old Town canoes, compact camp chairs to relax around the campsite, type III life jackets, paddles, spacious Eureka & Alps Mountaineering outfitter tents, group tarp, cooking & eating utensils, well stocked First Aid kit and for a little added peace of mind, a Delorme InReach two way satellite communicator. You may have some of your own equipment you prefer to bring, please contact us to discuss your gear. (See our gear list)