Canoe the Wild owner and operator Dave Conley can take care of all trip logistics and provide all necessary canoeing and camping equipment to make your trip safe and enjoyable. Contact Dave for inquiries, to make a reservation, or discuss your next canoe trip in Maine with Canoe the Wild. Contact Dave online or call/text 207-551-8729 for more about our trips and what we provide.
Dave Conley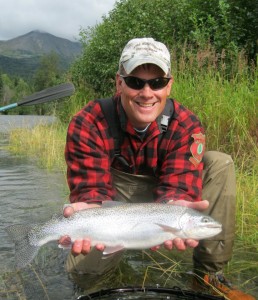 Dave Conley, Master Maine Guide and owner of Canoe the Wild, has been paddling the rivers of Maine and Canada since 1985. During the school year, Dave teaches an outdoor education program at East Grand High School in Danforth, host to the annual East Grand Adventure Race. In the fall, guided moose hunts are offered in northern Maine.
For the past 31 years, Dave and his crew travel to Lynchburg Virginia during the Christmas Season to sell trees, wreaths and greenery to the fine folks of central Virginia. Contact Dave to discuss putting a trip together for your family or group, join others on an outing, your next moose hunt or adventure racing! (Read more about Dave)
Tammi Matula
Tammi Matula  is a natural on the river and  great at making guests feel right at home in a wilderness setting.  A Registered Maine Guide, Tammi has certifications in Wilderness Advanced First Aid, and Wilderness First Responder.
Extended big whitewater canoe trips in north western Canada to leisurely remote weekend trips closer to home, Tammi has 'done it all' including the Allagash, St. Croix, Moisie, NE Mistassibi, de Pas, Mountain (NWT), and Bonaventure Rivers.
During the school year, Tammi's tamer side has her teaching physical education at East Grand School with an emphasis on the outdoors and recreation. Tammi also team teaches the outdoor education program with Dave at East Grand School.
2/21/2021 Tammi Recognized by the Maine Environmental Education Association as a change maker, read about it CLICK HERE
Andrew Gibbs
Andrew Gibbs has  a passion for the outdoors spending as much time as possible during the different seasons fishing, hunting, trapping and paddling. Andrew's schedule allows him to take part guiding canoe trips during the summer months and moose hunts in the fall. Right at home in the outdoors, Andrew has a calmness about him that puts people at ease. Recently Andrew obtained is OUPV license for guiding sea duck hunters.
William Cliff
William Cliff has been taking part in wilderness trips for over half his life and he got his start at a summer camp as a Leader in Training when he was 12. Throughout high school and college he spent a majority of his summers helping to lead various middle school and high school age groups down the Allagash, through Baxter State Park, and down the St. Croix River. A Registered Maine Guide, Will has been working with Canoe the Wild during his off season. When he is not guiding, William teaches History at East Grand School in Danforth, Maine and enjoys hiking, painting, and music.
Wayne Daggett
Wayne first joined us on a St. Croix River canoe trip over 20 years ago. Since then Wayne has taken part in such trips as the Allagash, Dead River, Bonaventure and NE Mistissibi Rivers. Wayne also enjoys assisting Dave and the East Grand school students on spring canoe races and helping out with the annual East Grand Adventure Race. An accomplished flat and whitewater paddler, Wayne also enjoys  canoe poling.
Nick Chambers
Nick has been paddling with us since his pre teen years. At the age of 12 Nick  was standing up poling over class III ledge drops on the Bonaventure River in Quebec! A veteran of numerous Maine and eastern Canada trips, Nick has a quiet demeanor, is organized, has good people, camping, boating skills and gets things done around the camp.
Tim Witmer
Tim caught the wilderness bug as a teenager while participating on one of Dave's 10-day Allagash canoe trips in 1995. Tim took part in Gordon College's outdoor program all four years participating, leading and assisting with trips in the Adirondack mountains. Graduating with a minor in outdoor education. Tim participated in a semester with the National Outdoor Leadership School (NOLS). Led many trips with Camp Living Waters over the course of four summers and assisted on numerous East Grand high school canoe trips. Tim is married to Amy, they have 3 young children and live in Linneus, Maine.
Paul Domigan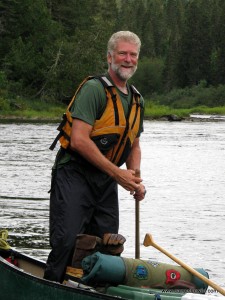 Paul Domigan a lifelong outdoorsman and has been in love with the Maine wilderness since childhood. Paul is a Registered Maine Guide, a Licensed Camp Trip Leader, and a Trip Leader Instructor. He has earned certifications in Wilderness Advanced First Aid, and Wilderness First Responder from the Wilderness Medical Association. Paul is a member of the Maine Professional Guides Association and the Maine Wilderness Guides Organization.
Paul has been a long time resident of Andover Massachusetts and has been married to his college sweetheart for 39 years. He has four adult children, all of whom are wilderness campers, and nearly four grandchildren. Paul has been an active leader in his church and a Boy Scout volunteer for many years.
In the off-season, Paul is enrolled at Gordon-Conwell Theological Seminary in the Marriage and Family Therapy track after a long career in engineering and business. Paul is a graduate of UMass/Amherst and MIT.
Vance Gustin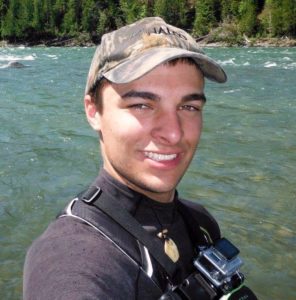 Vance took his first canoe trip down the St. Croix River with Dave at the age of 11. A dedicated fly fisherman, Vance loves the wilderness and chasing wild brook trout and salmon all across the state. Vance is also an ardent lover of swift waters and holds a Maine whitewater Guides License Level II.
Whether you like a quiet sunrise paddle across a lake or a heart pounding whitewater adventure, Vance is happy to help you discover the joys of being outdoors in Maine. 
Vance has a B.S. in Chemical Engineering, E.I.T., and is currently a Graduate Research Associate at the Ohio State University, William G. Lowrie Department of Chemical and Biomolecular engineering. Eventually Vance hopes to teach at the collegiate level.