Maine Family Adventure Trips, Vacationing in Maine
Looking to add some adventure to your Maine outdoor summer vacation? How about a tech free Maine summer vacation for your kids? Discover Maine and its wild places when taking part in a St. Croix or Allagash River canoe trip. River trips make for great Maine family vacations and weekend getaways.  Our St Croix and Allagash canoe trips are kid friendly and well suited for families and groups of all ages with little or no experience and can be paddled all summer long. Note, many families make their summer vacation plans to include visiting Acadia National Park and other Maine coast destinations as well as a 3 or 5 day canoe trip with Canoe the Wild. The feedback we often receive was that the canoe trip was the highlight as it was so experiential in nature!
Canoe the Wild provides all necessary equipment, meals and instruction. All you'll need is a few changes of clothes and a  sleeping bag.
New to canoeing? Be sure to view our instructional videos made in collaboration with Old Town Canoe. This short 3-part series covers: Basic Canoe Strokes, Canoe Paddling Maneuvers, Running Rapids. You can view them here.
St. Croix River Canoe Package, 3 Days
With miles of quick water and lively rapids, it's easy to see why the St. Croix River is one of Maine's best summer adventure vacation trips. Kids will love it! Campsites located on the river's edge are rustic, with picnic tables and a fire pit. We camp in tents, and cooking is done over an open fire (more info).
2021 Scheduled St Croix River Canoe Trips
Video of one of the best places to go and things to do while on your Maine summer vacation with kids, teens, adults!
Allagash River Trip Canoe Package, 5 Days
Our best canoe trip for spotting moose! The legendary Allagash is Maine's only designated Wild and Scenic River, and is a great short Maine summer vacation with friends and family. Enjoy a leisurely pace, comfortable campsites and great meals (more info).
East Branch of the Penobscot River Package, 3 days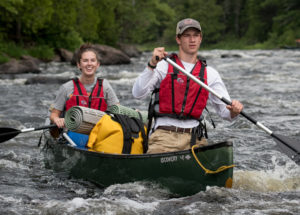 Another great Maine summer vacation idea for families with teens is a whitewater canoe trip on the East Branch of the Penobscot River. The East Branch flows thought the Katahdin Woods and Waters national monument. Several mandatory portages around scenic waterfalls, class I-II whitewater, total trip distance by canoe is 27 miles. Ages 14 & up. Must be in good physical condition for portaging. (more info)
Below are pictures of 2020 canoe tripping season